With a cabin which separates from an autonomous skateboard chassis, the MicroSnap concept takes the idea of a multi-purpose vehicle one step further. Whether it is being used as last-mile transportation for passengers or as a courier service, the MicroSnap maximises the use of an autonomous vehicle.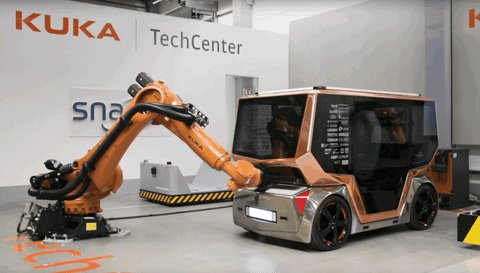 Using robotics, the cabin can be exchanged swiftly.
Being only 2.6m long the MicroMax is less a car, but more of a small transport pod for high density urban environments. The passenger pod has room for two people, which is more than the average occupancy of vehicles today. The angular design of the MicroSnap was used as a technique to visually marry the skateboard with the cabin, while making sure that both components look good on their own. Alain provided the design for all exterior and interior surfaces.